APRIL 11, 2017
SKYSTEM'S NANCY WU TO SHARE BEST INDUSTRY PRACTICES AS FEATURED SPEAKER AT UPCOING INTERNATIONAL CFO EXECUTIVE SUMMIT
SkyStem LLC, a provider of automated month-end close and account reconciliation software, today announced that its Head of Sales and Support, Nancy Wu, will deliver a featured presentation at the upcoming CFO Executive Summit in Prague.
Read the press release here.
---
MARCH 14, 2017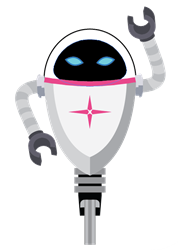 SKYSTEM'S TECHNOLOGY COMES TO LIFE WITH ARTIE THE CONTROLLER
SkyStem LLC, a provider of automated close and account reconciliation software, today launched its new mascot Artie; a friendly robot who will be bringing the company's message to the world.
Read the press release here.
---
SKYSTEM HAS RELEASED A PRODUCT VIDEO PROMOTING ITS FINANCIAL CLOSE PLATFORM, ART
SkyStem LLC, a provider of automated close and account reconciliation software, has released a new video promoting its financial close platform, ART.
NEW YORK, NY - AUGUST 30, 2016
SkyStem's product video can be seen here
The company's video is a product illustration that narrates the path to achieving a seamless financial close through SkyStem's software. In the animated video, viewers learn the value and benefits of automating account reconciliation workflows through an engaging demonstration of the platform's key modules.
"We're very excited to launch our updated product demo video. It captures ART's salient features and highlights a successful scenario when implementing our software," said SkyStem Founder, Shagun Malhotra.
"The video takes viewers right into the issues that many organizations face during their month-end close, and guides them through our solution to streamline their processes. This is just one way that we're educating the marketplace on our core technology," she continued. Since its founding, SkyStem has received awards and accolades for its innovative software, ART, including the 2015 Top 100 Tech Companies Founded and Managed by Indians in the U.S.
To watch the video, click here

About SkyStem LLC
Headquartered in the heart of New York City, SkyStem delivers a powerful close and account reconciliation application for organizations seeking to streamline their financial processes. The company's flagship solution, ART, is an enterprise technology that helps CFOs and Controllers shorten the month-end close and the time to issue financials by automating balance sheet reconciliations, managing month-end tasks, and providing insightful reporting. The web-based solution streamlines and eliminates up to 90% of manual activities while strengthening internal controls and corporate governance.